Beck, Isaac
– 1835-1854 – Mifflinburg - He lived in Mifflinburg and was the son-in-law of John Dreisbach the gunsmith. Ewing notes his production of swivel breech rifles. Gluckman noted that he made fine flintlock rifles.
(Additional history from M. Loudenslager)
Isaac L. Beck
Born: May 5, 1811 Pennsylvania
Died: May 21, 1856 Mifflinburg, Union County, Pennsylvania
Buried: Mifflinburg Cemetery, Mifflinburg, Union County, Pennsylvania
Isaac L. Beck was a gunsmith in the Mifflinburg area. He was also a skilled maker of elaborate "Pennsylvania Dutch" storage chests. Fine chests are known to be marked "Isaac Beck" and are very much sought after by antique collectors. Isaac L. Beck was the son of Henry Beck, a farmer from Lewisburg, Union County, PA. Isaac L. Beck married Mary Dreisbach on July 7, 1839. Ref. C.P.I. Beers 1898, pp. 848-849. Mary Dreisbach was the daughter of gunsmith John Dreisbach, Sr. Isaac Beck is listed in the Union County, Pennsylvania tax records as a gunsmith in Mifflinburg in 1845, 1846 and 1848. Isaac Beck is known to have made at least a couple nice swivel-breech rifles. Ref. Dalas Ewing.
Henry Beck, father of gunsmith Isaac Beck, settled upon a farm in Earl Township, Berks County, where he followed farm­ing and tanning. In the year 1813 he moved with his family to a farm adjoining (and now a part of) Lewisburg, Union Co., Penn., which place he had previously visited with a view to settlement. Here he built a new tannery, which he carried on in connection with his farm. The large brick house at the upper end of Second Street in Lewisburg was built by him in 1823, and was occupied by him and his family. By his wife, Hannah, he had six children, one of whom, named Daniel, died in infancy. The others were Samuel L. Beck, born April 6, 1802; Rebecca L., born November 30, 1807; Isaac L., born May 5, 1811, died May 20, 1856; Mary Ann, born October 19, 1815; Lydia L., born April 12, 1818. Hannah Beck died November 19, 1839, aged fifty-seven years. Henry Beck died January 2, 1846, aged sixty-nine years. Both are buried in the cemetery at Lewisburg, Penn. Henry Beck was a member of the Luth­eran Church at Lewisburg, while his wife, Han­nah, belonged to the German Reformed Church. He took an active part in town affairs, and in politics was a Democrat. Of the other children of Henry Beck, Rebecca L. married John K. Housel, and died near Free-port, Ill., in 1892; Isaac L. married Mary Dreis­bach July 7, 1839, and died at Mifflinburg, Penn., in 1856, leaving two children, Henry and Kate; Mary A. married Thomas Reber, and died at Lewisburg in 1896; Lydia L. married Daniel Zeller, and still resides at Lewisburg.
Ref. J.H. Beers & Co. Commemorative biographical record of central Pennsylvania (Volume p. 615-1231) page 50 of 131.
1850 Census, Pennsylvania, Union County, Mifflinburg
Isaac L. Beck, age 39, occupation "Gunsmith", b. PA; Mary, age 40; Henry, age 9; Catherine, age 6; Daniel Mason, age 18 months.
Henry Beck
Born: abt. 1834 Pennsylvania
Died: Unknown
Henry Beck was a gunsmith in Mifflinburg, Union County ca. 1862-1863 (tax records). He was the son of gunsmith Isaac L. Beck and Mary Dreisbach. It appears that Henry Beck may have apprenticed under gunsmith George Dreisbach after his father died in 1856.
1850 Census, Pennsylvania, Union County, Mifflinburg
Isaac L. Beck, age 39, occupation "Gunsmith", b. PA; Mary, age 40; Henry, age 9; Catherine, age 6; Daniel Mason, age 18 months.
1860 Federal Census, Pennsylvania, Union Co., Mifflinburg Borough, Mifflinburg P.O.
George Dreisbach, age 51, occupation "Justice of the Peace", b. PA; Harriet, age 44; Sarah J., age 23, occupation "Teacher"; Calvin, age 18, occupation "Apprentice Plaster"; Ellen, age; Henry Beck, age 26; Catherine A. Beck, age 15.
Beck, Isaac Gun #1
( this gun was previously misidentified as a S. Baum)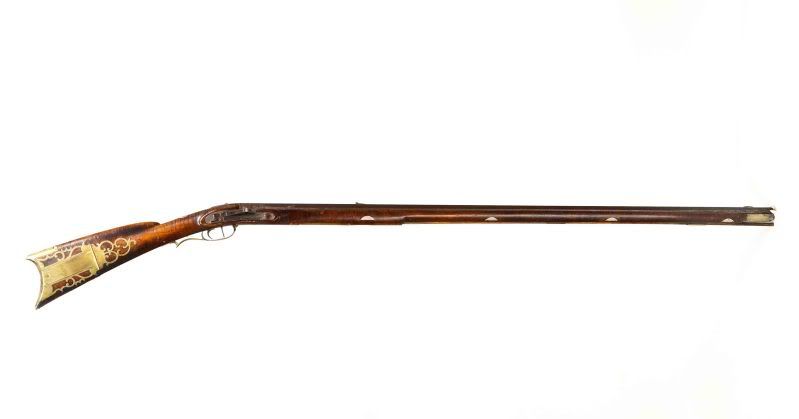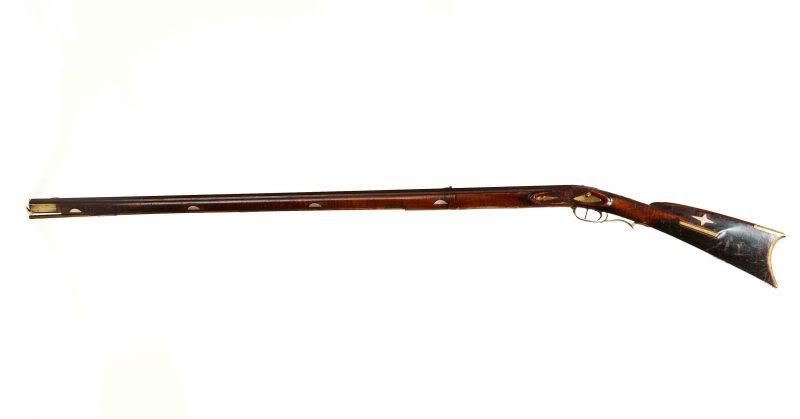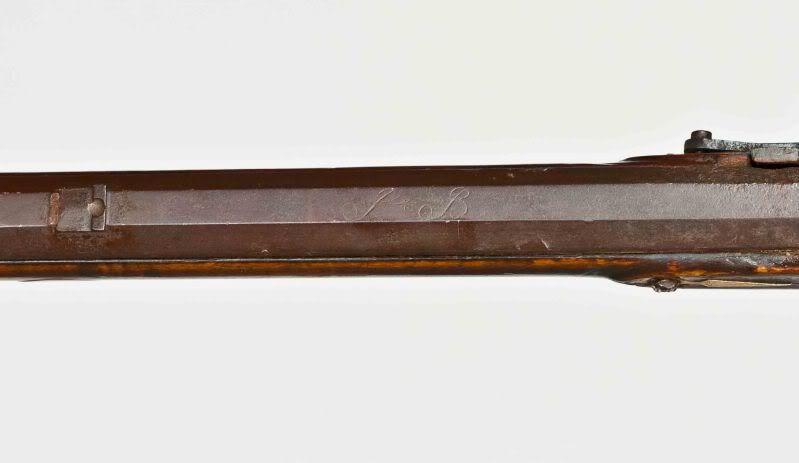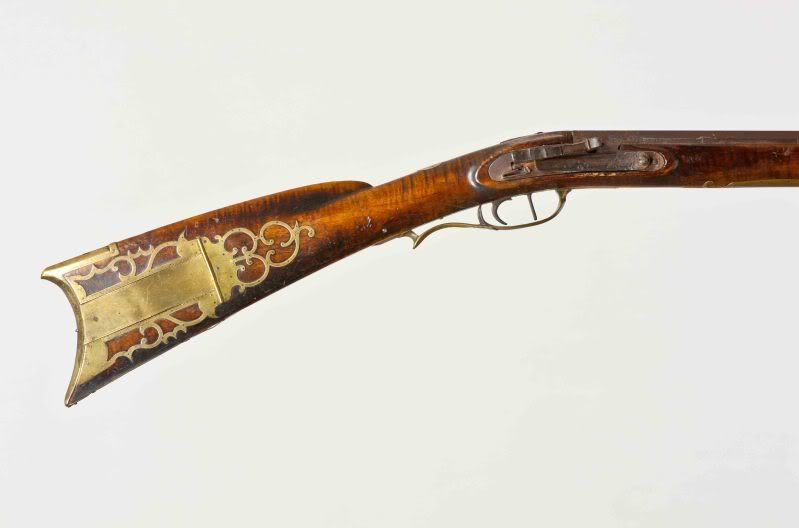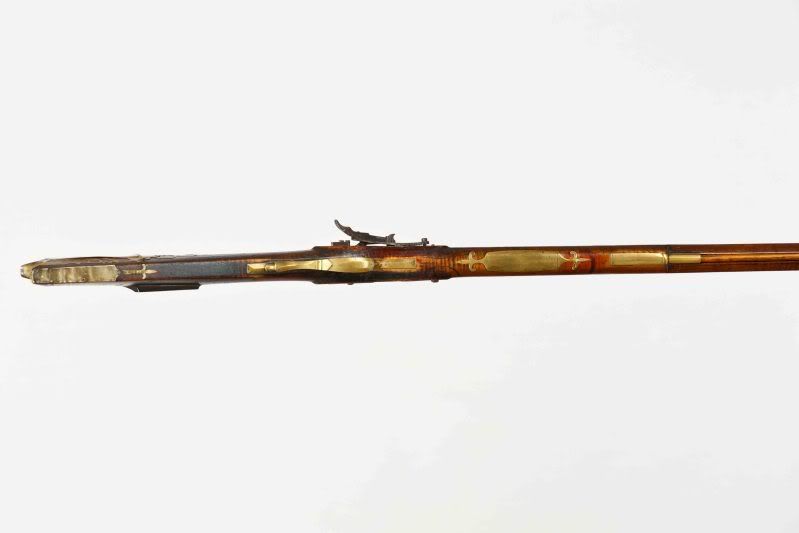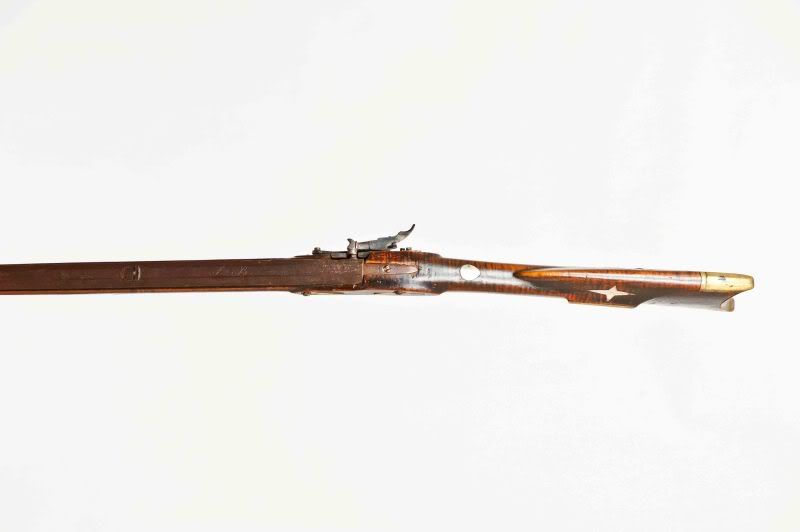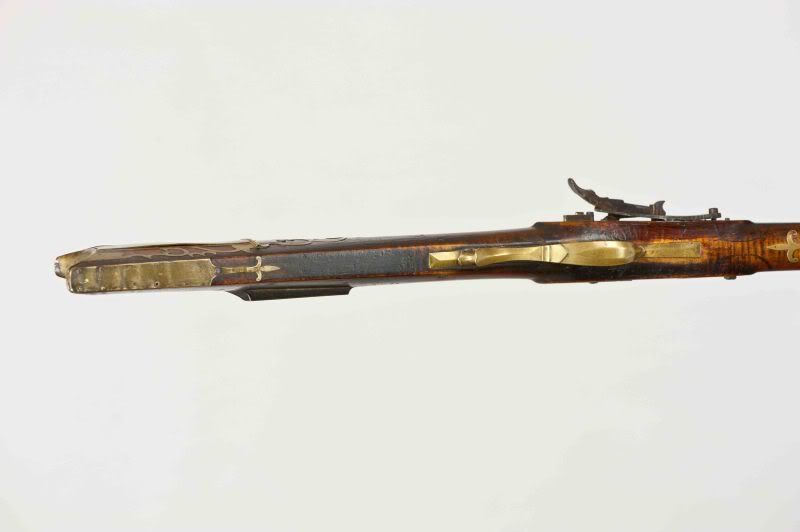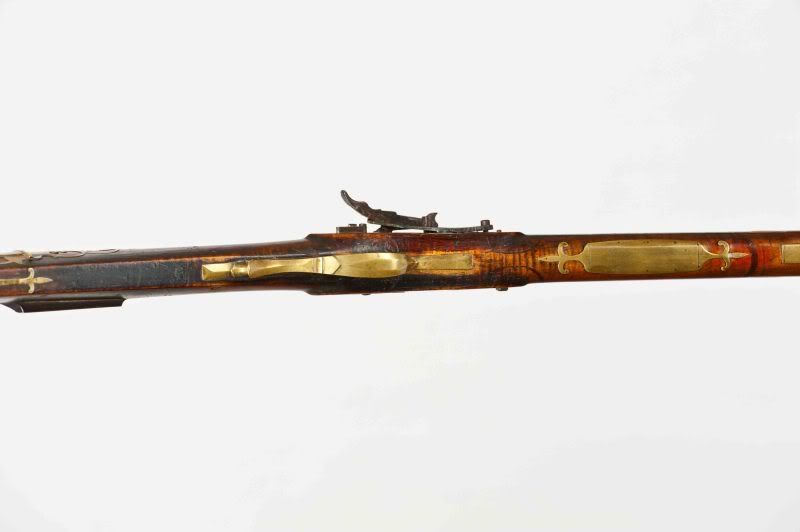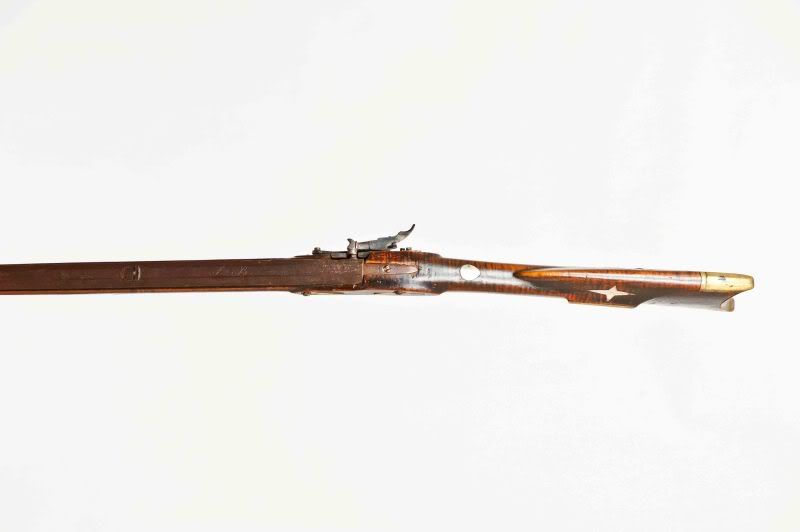 Beck, Edward
(Laudenslager identifies Edward Beck as a gunsmith who worked in Mifflinburg.)
Beck, J.P.
– flint period – Union Co. - In the book American Gunmakers by Arcadi Gluckman and L.D. Satterlee, Beck is identified as a gun maker who worked in Union Co., Pa.
Beerstecher, Frederick
– ca. 1860 – Lewisburg - He worked in Lewisburg and produced heavy full-stock and half-stock rifles and shotguns. He signed some of his guns with block letters. Some of his guns had cap boxes instead of patchboxes. He used set triggers and coin silver for inlays. One gun has a lock signed, "Field – Philadelphia".
Beerstecher, G.F.
– ca. 1860 – Lewisburg – Possibly the same as Frederick Beerstecher
Benfer, Amos
– ca. 1880 – Adams Township - He was one of the last gun makers in the area and died in 1916. At least one rifle he made was very typical of the Snyder Count School with a nice patch box and other brass inlays. Other guns are very plain. He was known to have used real dimes for inlays. He lived in Adams Township near the present town of Benfer although on some guns he signed his location as "Troxelville". The father of Amos Benfer was Daniel Benfer and descendents of these two contend that Daniel was a gunsmith who taught the trade to his son Amos. The family is in the possession of a rifle signed "Daniel Benfer". The signature on this gun is in block lettering and the barrel is obviously much older than the rest of the gun. It is certainly possible that Amos might have restocked this older barrel late in his life. Daniel lived west of Paxtonville near the present stone quarry. No documentation has ever been found to indicate that there was a gunsmith named Daniel, but several guns are known signed "D.B." in script.
From Mark Loudenslager: Amos Benfer
Born: April 2, 1841 Union County, PA
Died: June 28, 1916 Troxelville, Adams Township, Snyder County, PA
Buried: Troxelville Cemetery, Troxelville, Snyder County, PA
Amos Benfer is listed in the Snyder County tax records as a "Gunsmith" in Adams Township (near Troxelville) in 1882 through 1893. Prior to 1882 Amos Benfer listed his occupation as "Carpenter" in the Adams Township tax records. Amos Benfer was the son of Daniel Benfer Jr., born October 10, 1811, died January 6, 1893. His mother was Sophia Aigler was born October 16, 1818, and died 1902. Amos Benfer, and his cousin, gunsmith Moses Benfer may have learned the gunsmith trade from their uncle, gunsmith George Haines, b. 1808. George Haines was married to Elizabeth Benfer, b. December 9, 1812, daughter of Daniel Benfer Sr., b. August 15, 1782. Daniel Benfer Sr.'s son Daniel Benfer Jr. was the father of Amos Benfer. Daniel Benfer's son Paul Benfer, b. Sept. 1820 was the father of gunsmith Moses Benfer. Amos Benfer married Amanda Kline. Amos Benfer's gunshop stood formerly one mile south of Troxelville and was torn down in the early 1900's.
Amos Benfer was said to have been a great match shooter who traveled to all rifle matches near and far. He organized and ran all local shooting matches. His rifles are said to be known for their high grade quality locks and accuracy. As one old-timer said, "they were able to shoot all day long and stay in the black." Ref. Dalas Ewing notes on Snyder County Gunsmiths.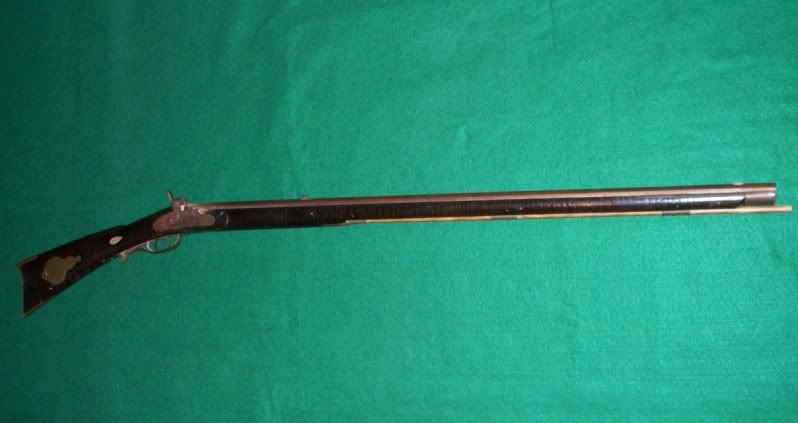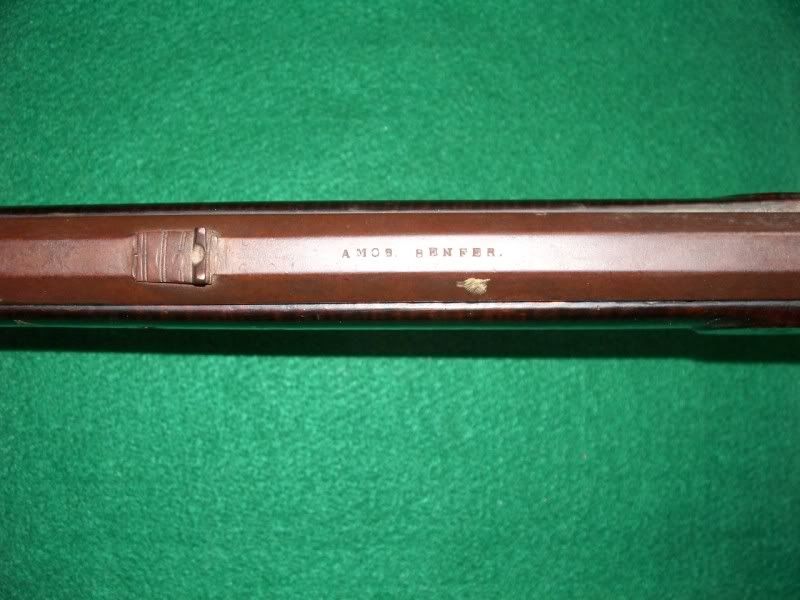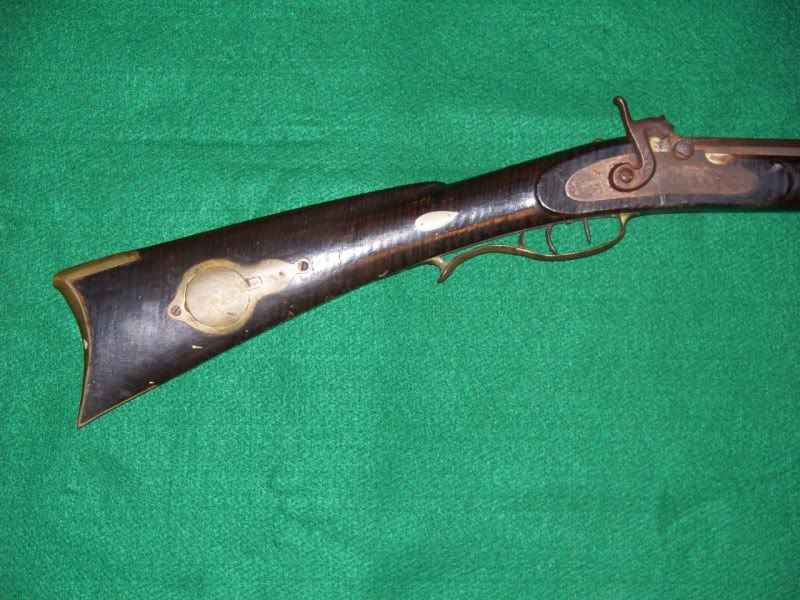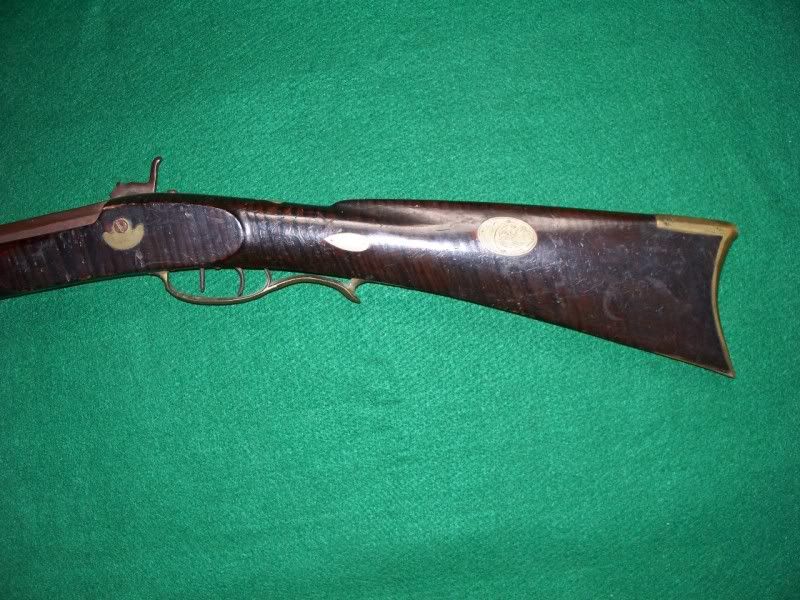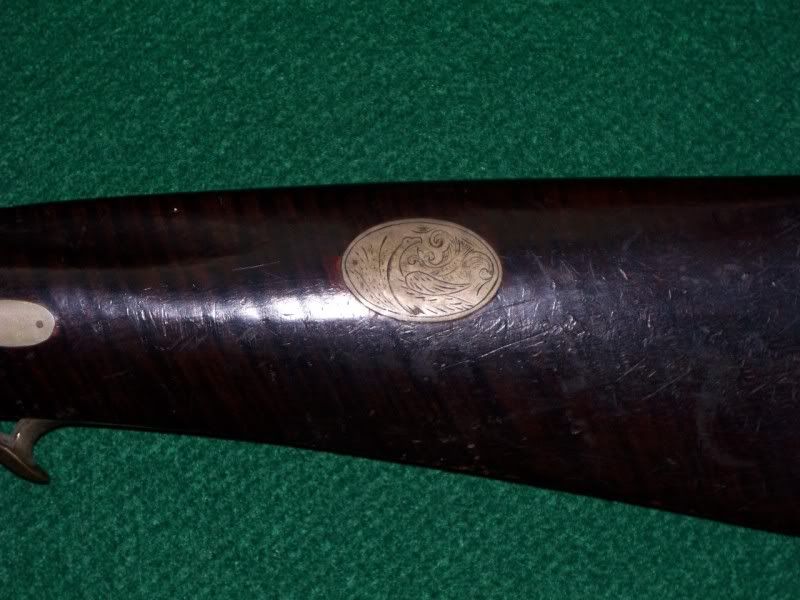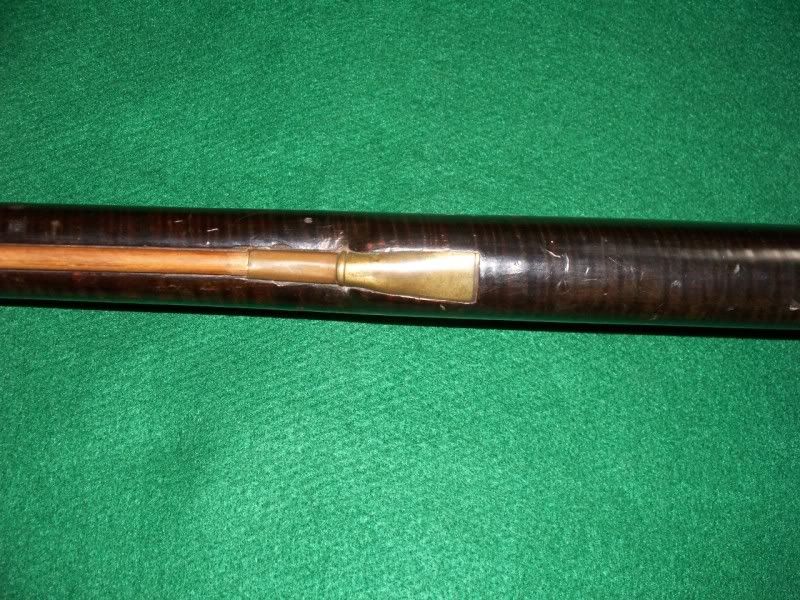 Benfer, Amos Gun #2
A swivel
"The Christmas Gun" Dec 25, 1877
Picture of Amos ( date unknown)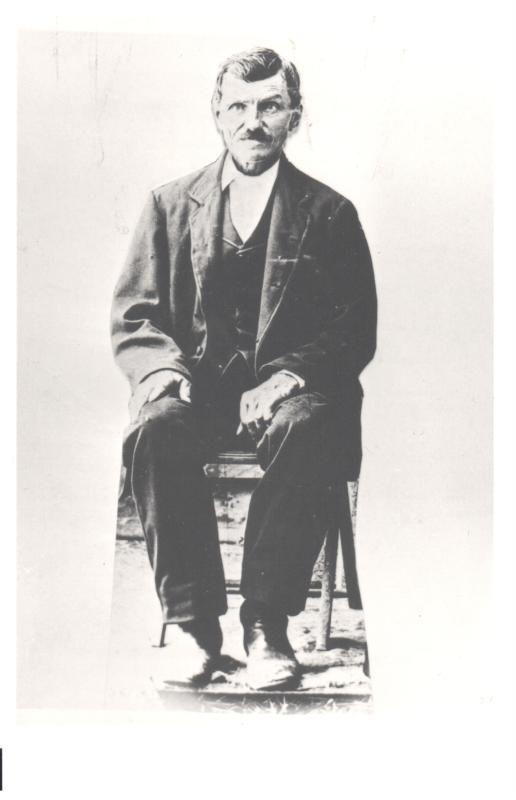 " A Kentucky Christmas " By Arnie Dowd ( A story of Amos Benfer, both provided by his great grandson Charles L. Erb and researched.)
" By the late 1870's , the demand for muzzle loading firearms had dramatically diminished due to the technological superiority and convenience of the self contained cartridge. However, a few clung to the old ways. One such individual was rifle maker, Amos Benfer of Snyder County , Pennsylvania who made this rifle as a Christmas present for a member of his family.
Amos Benfer was born April 2, 1841 near Troxeville in Adams Township in Snyder Co. He was one of six brothers, three of which saw action in the Civil War and lived hid entire life in this immediate area. He married Amanda Kline and they had two children, Charles F. and Jane.
Amos Benfer is listed in the tax assessments from 1872 to 1893 as both a gunsmith and a farmer. Due to the continuing decrease in demand for muzzle loaders, he also worked as a carpenter in order to supplement his family's income.
According to family history, he was never apprenticed officially to an experienced guns maker, but may have learned the trade by trial and error. It is assumed that he studied and was influenced by the work of other gun makers in the area such as Joe Long and the members of the Specht family, in particular Elias Specht. He produced his first rifle about 1861 and the last one in 1912 with the majority between 1875-1890. All of his rifles were percussion ignition and many were super posed double guns. He purchased his locks, usually back action, already completed as well as barrel blanks ready for boring. His choice of stock material was normally curly maple with some occasional cherry.
Bender's original shop, which was still standing in the early 1970s, was located 3.5 miles north of Beavertown and 1.25 miles south of Troxeville. He always worked alone and priced his guns fairly- $20.00 if relatively plain and $22.00 if decorated with German silver inlays. His reputation as a great match shooter increased the demand for his products throughout the area. According to his grandson, it is said that he was able to split the ball of his first shot in a match with the ball of his second shot, but only after judging the windage variation during this feat by tying a small piece of silk to a stake near by , and only when it was perfectly still would he fire.
He also enjoyed hunting the then common wild turkey of central Pennsylvania, once shooting a "gobbler' which had a beard of 9 inches and dressed out over 21 pounds.
Amos Benfer die on January 28, 1916 at the age of 75 years and is buried in Troxeville Union Cemetery in Snyder County.
As evidence by the stock architecture as well as the artistic design of the German silver inlays, this rifle by Amos Benfer is a classic example of the late Sunbury School of Central Pennsylvania. The general geographic area of this school of gun making, to sometimes as the Snyder County School, also referred encompasses Snyder , Union, Northumberland, Montour and Center counties. Dated guns are often found in this school. This gun may well have been a special Xmas present, perhaps to a family member as the inlay behind the cheek piece is engraved with a single "B".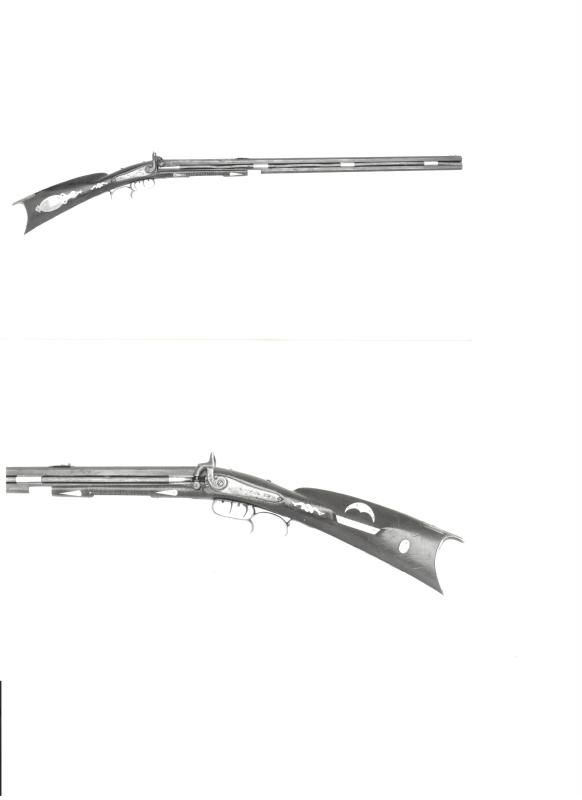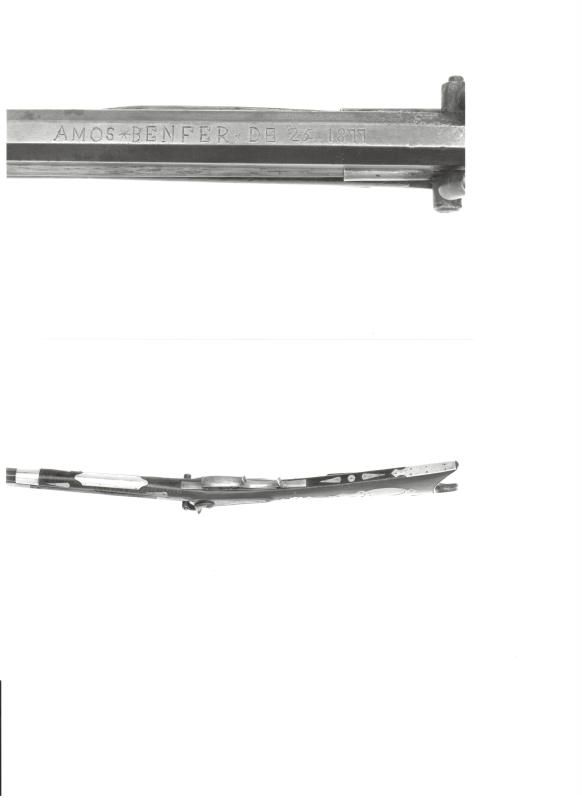 Benfer, Arnig
– ca. 1820 – Gluckman lists him as living in Beaver Township.
Benfer, Moses
– ca. 1860 – Beavertown – He was identified by James Whisker in Arms Makers of Pennsylvania.
Betzer, Sr., George
– ca. 1841 – East Buffalo Township – He was assessed as a gunsmith in 1841. None of his guns have been identified.
Bishop ,Alexander "Elick"
– 1850 – Center Township - He worked in Center Township for John Siegfried in his gun barrel mill. He was the twin brother of Edward Bishop. They were 17 in the 1850 census.
Bishop, Edward
– 1850 – Center Township - Twin of Elick Bishop. In the 1860 Census he was living on the property of George Boyer in Jackson Township.
Boyer, George
– 1855 – Jackson Township, Snyder Co. He was listed as a gunsmith in 1855 but none of his guns have ever been identified. There have also been suggestions that a Daniel Boyer also worked in Snyder County, but no evidence has yet been found to verify this information.
Click here to continue alphabetically:
http://hurricanenordgallery.com/index.php?topic=17.0
Copyrighted: All rights reserved